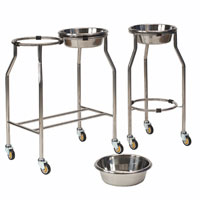 Ultrafresh Cleaners provides healthcare cleaning services to meet the specialist needs of hospitals and other healthcare facilities and to help them meet their cleanliness targets. There are a number of cleaning contractors that provide the bulk of a hospital's cleaning needs, but their services cannot provide a solution to the more specialist cleaning needs that all facilities require (or are realising they require) periodically, i.e. professional hospital bed cleaning and bin cleaning.
This is due to the fact that the cleaning contractors staff are not trained in the deep-cleaning of these "special" items and they simply do not have the specialist equipment or the processes required to manage these cleaning projects. Ultrafresh Cleaners is a specialist cleaning company that has invested in the right equipment and staff to allow us to deliver high quality cleaning of virtually any item.
Some of the more common services we provide to healthcare facilities include hospital bed cleaning, blind cleaning, bin cleaning and ceiling cleaning. Below is further details on some of those services.
---
Medical Blind Cleaning Service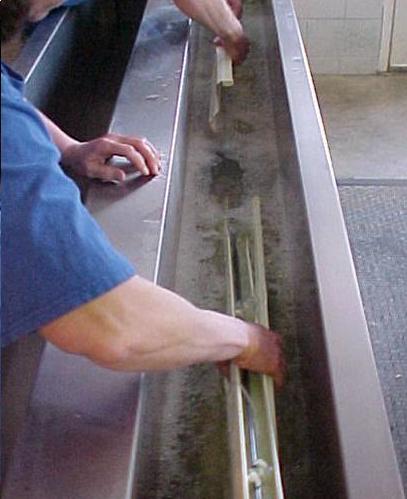 Our blind cleaning services are second to none. Our standard service provides a complete pick-up and return service within 24 or 48 hours as required.
For larger quantities or where the return of the blinds is required as quickly as possible, we can provide an on-site cleaning service. Prices for our services start as low as €35.00 per blind!
The blinds are taken down before cleaning and re-hung by our own staff using our specially developed process that ensures that every blind is returned to the exact window it was taken from.
This means that our service has very little, if any, impact on the day-to-day running of the facility.
The blinds are cleaned ultrasonically to deliver an extremely deep clean; removing all dirt, dust, grime and soiling from every crevice of the blind.
Where required/requested, we can also treat the blind with a powerful anti-bacterial/anti-viral agent to deliver a sterilising clean.
Medical Equipment/Utensil Cleaning
There is a vast array of general equipment and utensils that can be cleaned using our specialist cleaning services.
Our ultrasonic cleaning equipment and process can clean everything from IV stands to electrical fans and even wheelchairs and trolleys!
All of these are items that typically fail to enjoy a thorough clean using traditional cleaning techniques. Yet with our ultrasonic cleaning process, every item will receive a clean that simply cannot be matched using any other technique.
Where required/requested, every item can be treated with a powerful anti-bacterial/anti-viral agent to deliver a sterilising clean.
---
Bed Cleaning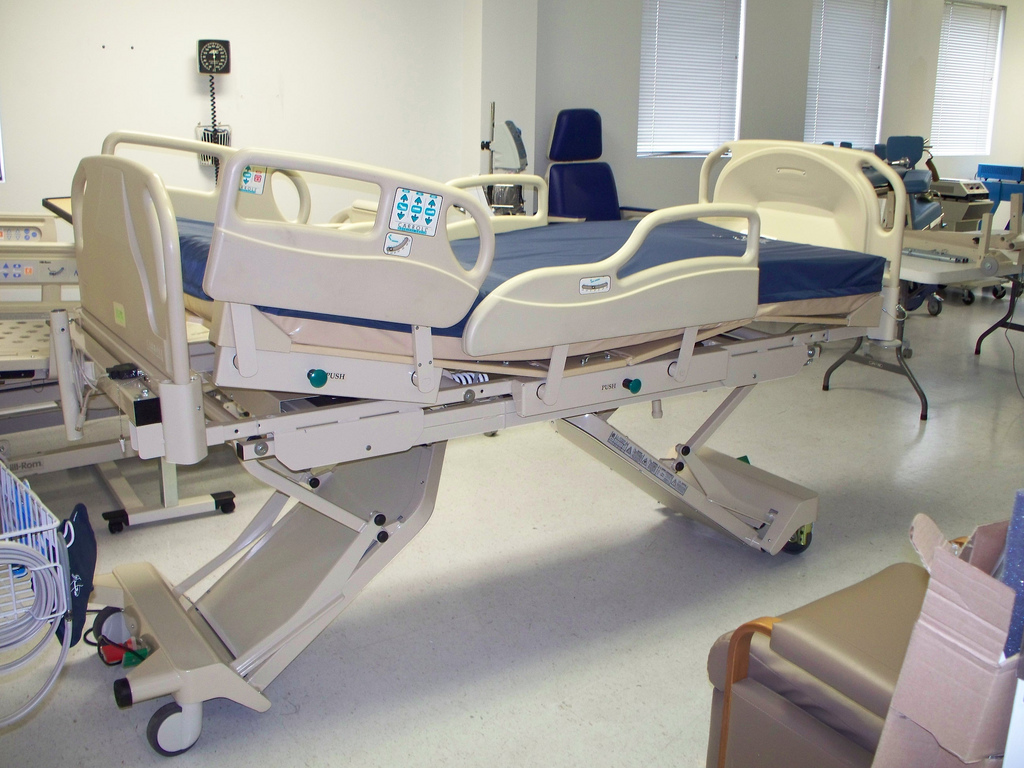 We provide an in-depth bed cleaning service. This allows us to collect dirty beds from any facility. The dirty bed is then deep-cleaned at our facility using a combination of ultrasonic cleaning technology and hot pressure washers. This removes all dirt, dust, grime and soiling from every crevice of the bed. Where required/requested, we can also treat the bed with a powerful anti-bacterial/anti-viral agent to deliver a sterilising clean.
Once cleaned the bed is then returned to your facility.
In many cases, we are asked to clean beds that have seen better days. For these instances we can provide a two-tier bed refurbishment service, that offers a clean and either a general touch-up or complete refurb as required.
The details of this service is as follows:
1) General Bed Touch-up
Bed is given initial clean Damaged areas are prepared and primed for new painting/coating Damaged areas are then given final finish Castors are re-lubricated Plastic end-caps and other small parts are replaced as required*
2) Complete Bed Refurb
Bed is given initial clean Bed then receives complete shot blasting to remove paint or powder coat layer Base surface layer is then primed for new final layer Final finish is applied Castors are re-lubricated Any faulty parts are replaced as required*
This service is also available for any metal-based items, large or small, such as bassinettes, cabinets, IV stands, trolleys, wheelchairs, commodes and bins.
* You will be informed of the cost of replacement of any required replacement parts and can confirm you wish to have the parts replaced before any remedial work is carried out.
---
Hospital Equipment Refurbishment
Ultrafresh Cleaners have developed a process for the refurbishment and reupholstery of Hospital equipment, beds, furniture and soft furnishings. Our process reduces spending for the hospitals and also creates Irish jobs by simply recycling equipment back to original condition.
Our process achieves huge saving through a number of key areas
(1) Replacement cost.
(2) Disposal and skip hire.
(3) VAT.
Our process is charged at the lower VAT of 13.5% as to the replacement of new equipment charged at the higher VAT rate of 21%
Rust, chipped paint and powder coating that has started to deteriorate causes infection control concerns, As the process removes all of above, it will totally eliminate this problem Our technology allows for the hospital to have full traceability of their equipment via our web based asset management system.
For more information on these or to discuss a specific requirement not highlighted, please contact us today.
If you would like to discuss any of the hospital cleaning services shown above, or you have a need for specialist cleaning services not shown here, please contact us today to arrange a site inspection and quotation.
T&C's Apply